Media (Print, TV, Radio, Etc.)
Here are clips for some of my guest appearances and other situations where I happen to be in print, on radio, or on film
Interview with The Daily Pennsylvanian about my activism work post-graduation and my recent talk there.
Featured among a group of dynamic Black women (Rebel Girls!) changing the world, on and offline.
On "The Remix" podcast, hosted y Dr. James Peterson, on Bill Cosby and Hip-Hop Misogyny.
On the "Good and Terrible" podcast, discussing Push The Button and more. (Adult Language)
Featured in Washington Post article about how 2014 was a big yer for anti-street harassment activism
Featured in Washington Post article featuring voices of various feminist women with some neat sketches
On HuffPost Live, during the end-of-year round up of women making news and feminist issues
#YouOkSis named among top feminist hashtags on Ms. Magazine, Mic.com, and Hashtag Feminism
Some footage from anti-police brutality protests
Barclay's Center Brooklyn – Royal Shut Down 12/9/2014 from AS-A on Vimeo.
Cameo on The Daily Show
My first feature in TIME magazine, on Black women and domestic violence
Entitled Men Everywhere Just Can't Stop Taking Up All the Space on Public Transportation which featured my commentary on traveling via public transportation and how annoying it is when men take up too much space
Online Harassment of Women Isn't Just a Gamer Issue, about how WoC are often overlooked when it comes to discussions of harassment of women online. I was interview in this article challenges that and discusses how prevalent it is.
#59 of The Root's Top 100 Influential Black People for 2014
Sex Positive Messages in 40 Years of Hip-Hop Culture
Interviewed for Madame Noire on sexuality, openness, and kink
At BlogHer'14 Keynote on Race, Gender, and Feminism
I was named a Digital Citizen of The Year. Pretty awesome!
Interview with The Atlantic about #YouOKSis, a campaign to help victims of street harassment
NewsOne produced a video about Black women's experiences with street harassment, focused on encouraging more people to intervene, based on #YouOKSis
Interviewed for a NewsOne article about street harassment and #YouOKSis
Debate Breaks Out Over Hashtag Activism – on #YesAllWomen in Philly.com
On Aspire Netowrk's Exhale show discussing Black Feminism
On HuffPostLive discussing solidarity in Feminism with Mikki Kendall, Grace Hwang Lynch, and Lauren Rankin
"The Long Feminist Summer" – highlighting my work with #25SmartBlackWomenOfTwitter
Going Toe-to-Toe with Right wing conservative Rev. Jesse Lee Peterson
My thoughts on the passing of Actor James Avery in Fire Magazine
This Week In Blackness presents Smart Black Women of Twitter
Madame Noir named me one of the Smart Black Women of Twitter
On ElixHER, featured interview about being a Black queer woman, my work with #SexyShred and social media
Best #BlackTwitter Hasghtags in 2013 via Huffington Post (#SmartBlackWomenOfTwitter, #RacismEndedWhen, and #ArmaniCaptions)
In Ms. Magazine blog discussing health, fitness, feminism, and #SexyShred
Someone actually did a presentation about me! LOL too cute!
In Black Chick Media about my social media presence and work
Highlighting my appointment as BlogHer's Love & Sex section editor
On "Take Two" on L.A.'s NPR station discussing online activism (click to listen to radio show clip)
Named Best in 2013 for Sex Work Writing for my piece "Black Porn, White Pleasure" for Ebony.com
Salon Article Hip-Hop Doesn't Need Another White Savior
Salon Article  Is Twitter the underground railroad of activism?
Salon Article Where Are The Women In Today's Hip-Hop?
Discussing how the media failed women in 2013 on Huff Post Live
On HuffPostLive discussing #BlackTwitter and online activism. Also posted here
 On Dr. Oz Show
On HuffPostLive as a finalist for the Shorty Awards in the Social Fitness Category
On the Saturday morning news show, Twitterly nicknamed "Nerd Land", hosted Melissa Harris-Perry on MSBC
Click here and scroll to the bottom to watch segment
"How To Make Yourself An Expert" on SocialWorkHelper.com – A feature done on me!
Love & Sex colum for Ebony.com (click logo to read my column)
Also, on Ebony.com
Shades of Black BDSM
How to Handle Wintertime Love Connections
How To Bring Your Sexy Back With Toys
[PHOTOS] Sex Love & Hip Hop hosted by Sinnamon Love with special guests Sadat X, True Sun Ali, Persia NYC, Feminista Jones, Mela Machinko & DJ Bazarro
My piece on Black Male Bisexuality, originally posted on Ebony.com also featured on The Grio
A-Hole of the Day: Todd Kincannon (by Elon James, features a plug for my appearance on AMTWib)
Political Commentator, Journalist/Blogger, and Co-Host of Blacking It Up/This Week In Blackness, Elon James, wrote a great piece on the impact of social media on the 2012 Election. He features me
(click here to read)
The Root also showed love on one of my Ebony.com pieces about Older Women Dating Younger Men here
Featured blogger on BlogHer.com (click the image to read the piece)
Featured in the Kink & BDSM issue of Corset Magazine (click image to purchase)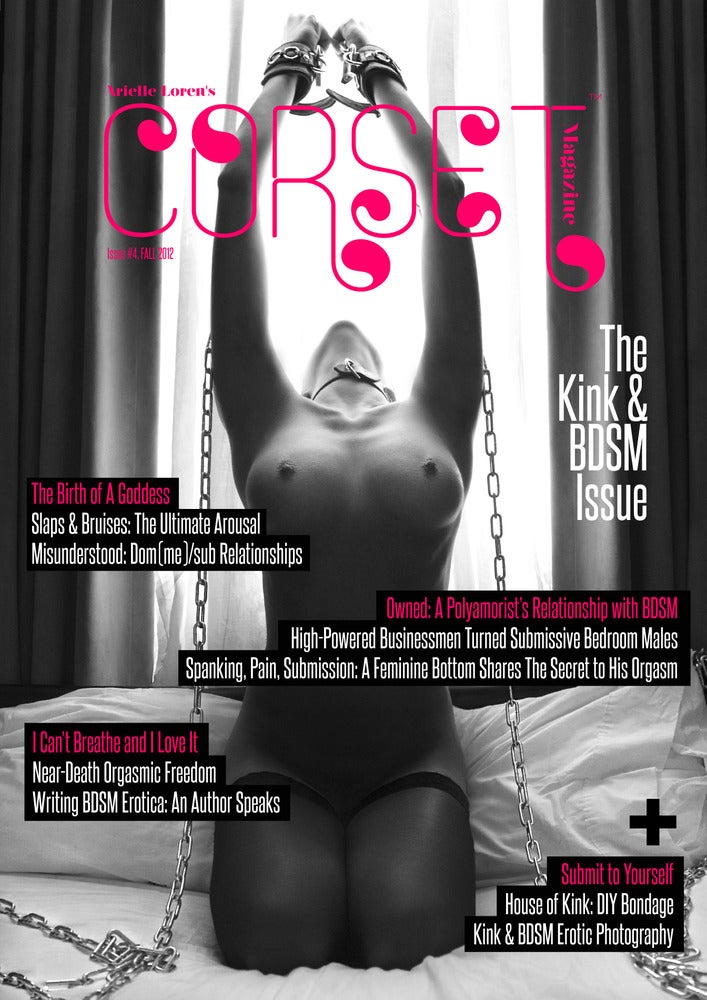 At "Love Songs & Curvy Conversations" hosted by CeCe Olisa of TheBigGirlBlog.com
My most recent guest spot on "The Black Guy Who Tips" 
http://theblackguywhotips.podomatic.com/entry/2012-09-30T10_46_26-07_00
Guest Speaker at an NYC Vigil for Trayvon Martin organized by Color of Change
On Cold Slither Podcast, discussing my all time favorite artist, Prince
http://coldslitherpodcast.com/2012/02/28/episode-20-the-purple-glove-thriller-vs-purple-rain-csp-s2ep8/
On "Insanity Check" with @InsanityReport, discussing everything from politics to Open Relationships
Insanity Check 299: Racial Free Agent
 On "The Black Guy Who Tips" with @RodimusPrime and @SayDatAgain
http://www.theblackguywhotips.com/2011/12/255-war-of-the-bryants/